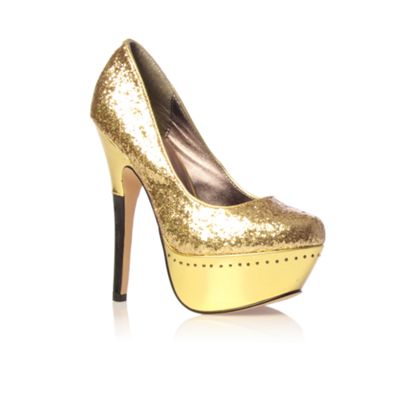 Oh yeah! These are definitely pretty damn gold. How tacky-licious are these? The glitter, the shiny gold, the huge platforms and the touch of black all contribute to the look and yes, that's a row of studs on the platform, because the rest obviously wasn't quite enough.
These are so over the top it's unbelievable but if you can carry them off (you know who you are!) they would totally make your outfit. My friends, your NYE party shoes are here. Dare to Glare!
(just bring some decent "going home" shoes with you, as I can sense a bit of an ouchy ending to your night otherwise).
They are by Miss KG and they're now on sale at Debenhams. Apparently sizes are running out. Sadly, the largest size was 8, so even though they look like the perfect drag queen choice, they're apparently not for you. Sorry ladies!
For the more "traditional" ladies, there are still a few sizes left.