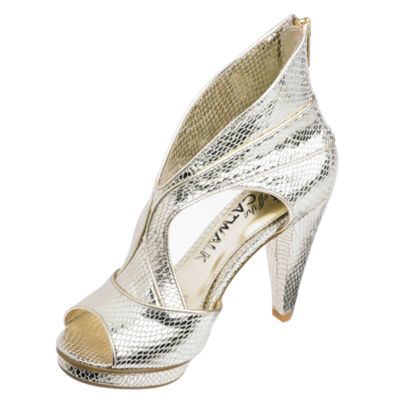 OK, so the write up about these shoes says they are "peep toe boots" and that they are gold, but in the pic they look more like silver shoes to me, apart from the inside that looks more like pale gold. I guess I can see how they might actually be a sort of pale gold colour in person, though. Either way, these shoes are quite different and really rather futuristic. I like.
As you can see, I have chosen once more to write about platform shoes, but what can I do? I love the stability of chunky platforms and, let's face it, you'll need some stability when fighting off sexy 60s sci-fi alien invaders!
I kinda wish they were actually as silver as they appear, though, because that would be cooler, but there's no accounting for taste. Either way, they are designed to make an impact and I'm sure you'd get plenty of attention wearing these.
These vegan gold platforms are available from Debenhams.